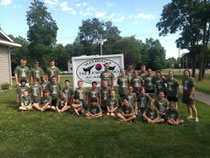 Waupaca Taekwondo Academy is a school that is focused on the student.  We recognize each student as an individual with their own strengths and weaknesses.  Our students understand that the most important thing about taekwondo is RESPECT.  New students come into our dojang feeling welcome.  Though we teach the sport of taekwondo; kicks, punches, blocks, forms, and sparring, more importantly we teach quality Character.  The Eight Points of Knowledge:  RESPECT, LOYALTY, WISDOM, HONOR, COMPASSION AND FORGIVENESS are 8 characteristics we strive to meet for all of us.  We have classes available for our Lil Kickers, ages 4 - 7, Beginner's ages 7 & up and Advanced students, ages 7 & up that are green belt and up.  We are a USA TAEKWONDO CLUB, teaching WTF style.  All our black belts are Kukkiwon Certified.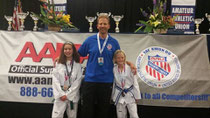 Dar  Peterson is a certified 4th degree black belt.  His passion for Tae Kwon Do is evident in everything he does.   He keeps his belt active by constantly attending seminars and events.  His class is fun, but productive.  He is a man of detail which you will realize in his classes.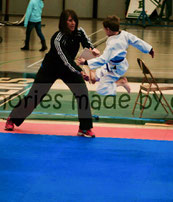 Becky Dudek is a certified 4th degree black belt as well as a Certified Personal Trainer. She loves being active and training whenever she can.  She has a passion for fitness and being pushed out of her comfort zone.  Her favorite quote is winners never quit.  She will challenge you in an encouraging way that will make you want more.